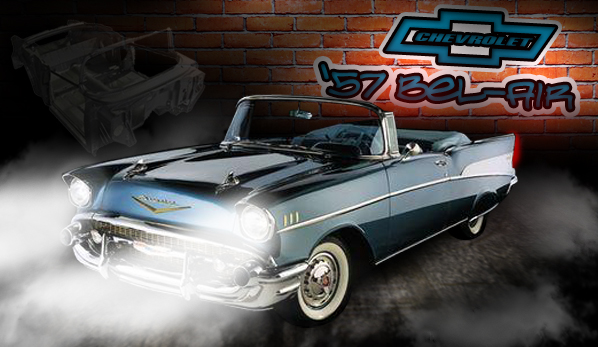 This 1957 Chevy Bel-Air convertible is being built from the ground up at Premier Street Rods in Lake Havasu City, Arizona. On this page you will find the latest updates and pictures of the build as it progresses. We will also give details on the parts that were used. If you have any questions about something you see on here, give us a call at 1-800-447-5000 or send us an e-mail at info@premierstreetrod.com

November 05, 2012 -Steel Body Purchased
November of 2012 Tom and Sheri purchased their 1957 Chevrolet Bel Air convertible body! Premier is thrilled for them and we are very excited about helping them get what they need during the build. The body they purchased from Premier Street Rods is manufactured by Real Deal Steel on the east coast. Each '57 body is hand-assembled in America using 100% real steel.

December 19, 2012 - Chassis Arrives
This week we received the chassis from Art Morrison. Art Morrison chassis are built with the finest craftsmanship and the best materials.

January 11, 2013 - Getting Started in the New Year
With 2013 in full swing we are ready to take some more steps foward in the build. We have received the chassis, body, and crate motor. Everything is now laid out in the shop to begin preparatory work.

January 22, 2013 - Putting the Pieces Together
With many of the pieces ready to go we began work immediately to start assembling the '57. In not too much time we have put the front and rear end in place and mounted the motor and the body to the frame.

February 28, 2013 - Primer Time
The body fitment is near complete and we have just started the primer stage. The motor and body are mounted to the chassis now to ensure everything fits well before removing it and sending the chassis off to powder coat. A special thanks to Lauren Potts and Second Chance Rods for the tremendous job they have done on the assembly!

April 5, 2013 - Paint it Blue
The '57 Chev came back from paint recently and it looks awesome! The owners did a fantastic job picking out the color and we are starting to look at interior options while we make other preparations to continue work on the chassis and drivetrain. What do you think?




1100 N. Lake Havasu Ave. - Lake Havasu City, AZ 86403 - 1-800-447-5000
Our 20,000 sq. ft. facility is located in beautiful Lake Havasu City, AZ. It is here that the bodies you purchase from us are assembled. Our facility also features a beautiful 5,000 sq. ft. showroom which showcases many of our products.